Review by
Amanda
Cole Montgomery does not do love anymore because he has experienced the side effects of it firsthand. Since he doesn't love he doesn't expect anyone to love him back. His parents were proof of what loving someone could do if things went south. Therefore he keeps himself hidden away from the world, closing himself off from feeling any emotion at all. He likes what he does for a living. Being a doctor gives him alternatives to free his mind off his own problems. When his brother scoots off with his lady love on a family vacation, Cole is left to run the clinic. Since Cole's sister-in-law is the Nurse Practitioner at the clinic, his brother hires Dr. Elisabeta Silva to help.
Dr. Silva, better known as Lizzie has always had bad luck. After her grandmother's death when she was merely ten, Lizzie has seen more foster homes than she could count. These homes lacked basic incentives that a child needs…for instance love. Until at one foster home, she meets a woman who has helped in changing her life. As an adult she has had to cope with a fair deal of her own heartbreaks. It hasn't been easy for her. When the opportunity arises for her to work in Wyoming she jumps at it with all the passion in her. It is in Wyoming that Lizzie finds a different kind of love in the form of the very broody Cole!
But will Cole have a change of heart and love again?
I enjoyed this story and would recommend it to fellow readers! It has a warm touch to it even though the medical field plays a small but vital role in contributing to the H/h's HEA.
Recommended
5/5 Stars
~~~~~~~~~~~~~~~~~~~~~~~~~~~~~~~~~~~~~~~~~~~~~~~~~~
Reviewed by
Nas
FATHER FOR HER NEWBORN BABY
by author Lynne Marshall is October 2015 release by Harlequin Medical Romance series. Its from Mini-Series-Cowboys, Doctors...Daddies!
Dr. Cole Montgomery hires Dr. Lizzie Silva and gets hooked by her small baby and her smile. Could he leave his bachelor ways now to settle with Lizzie and her daughter?
Lizzie doesn't believe romance exists anymore, could Cole convince her that romance and love does exist?
FATHER FOR HER NEWBORN BABY
is a second chance romance. Author Lynne Marshall brought this sparkling tale of unexpected and chance encounters turning into passion and sweet happy ever after. Lizzie is a strong heroine and Cole is gorgeous and sensitive. A reader would stay hooked until the last page in this medical drama.
Highly recommended for all readers of medical romance.
~~~~~~~~~~~~~~~~~~~~~~~~~~~~~~~~~~~~~~~~~~~
Father For Her Newborn Baby
Lynne Marshall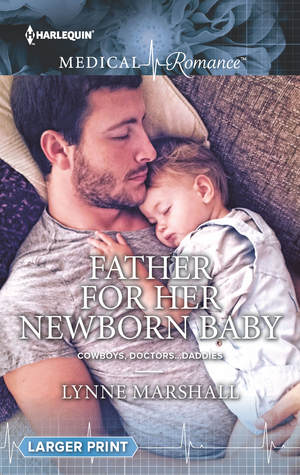 Reviewed by Helen
I did love this story such a beautiful setting wide open spaces and a sky so blue, this is the second book in this duet about Cowboys, Doctors and Daddies and is sure to leave you will a big smile.

Famed cardiologist Cole Montgomery has come home to the small town of Cattleman Bluff for his brother's wedding Trevor is also a Doctor but he is the local Doctor so Cole has agreed to run the practice while Trevor and Julie honeymoon but Cole left town many years ago and does not visit often him and his father Monty who runs the family cattle station do not see eye to eye but home he is and there is a new Doctor hired to help Cole out and his life will change dramatically when he meets Dr Elisabete Silva and her baby daughter Flora.

Elisabete or Lizzie as she is known has had a very tough life growing up in Boston but worked hard through trying times and became a Doctor and is now a single mother as well and she needs a job and with the help of a close friend she has a temporary position in a practise in a small town and what's more she and her precious baby have a place to stay. Lizzie settles in well with the family at the ranch and forms a bond with Monty and the house keeper Gretchen and is instantly drawn to her new boss gorgeous cowboy Cole but there will be some battles in a good way on this journey.

This is a fabulous story so well written heart-warming and emotional as feisty Lizzie makes Cole open up and see things that he would not have without her things that he has kept inside for many years and to see Cole fall for Lizzie and little Flora will brings tears of joy to your eyes and to see Lizzie's strength shine through is amazing don't miss this one I highly recommend it. It is such a wonderful journey for two beautiful and well deserving people and such a beautiful baby.
5/5 stars for a great story
--------------------------------------------------------------------------------------------------------------