Reviewed by
Nas
THE CONSEQUENCE HE MUST CLAIM
by author Dani Collins is a February 2016 release by Harlequin Presents series. This is Book 2 from the mini-series by Dani Collins, The Wrong Heirs. Book 1 is The Marriage He Must Keep.
Sorcha Kelly was turned away from the hospital when she went to visit her boss, Ceasar Montero after his accident. After one passion filled day with him, she was pregnant but couldn't let him now.
Now, eight months later, Cesar was about to marry someone else when he received a phone call from a hospital. It was Sorcha and she had a baby. The hospital wanted him to do a paternity test as there was a baby swap scandal. Cesar was surprised that he was a dad yet he didn't had a clue about it as he had memory loss after the accident.
THE CONSEQUENCE HE MUST CLAIM
is a highly sensual romance filled with emotions and drama. Author Dani Collins brought this miniseries of The Wrong Heirs and after the first book, The Marriage He Must Keep, I was waiting for this story. It is a tale of family jealousy, betrayal and redemption. This story would enthrall a reader and keep her hooked until the very last page. I finished this story in one sitting, as I was eager to discover what happened next.
Highly recommended for all readers of romance.
~~~~~~~~~~~~~~~~~~~~~~~~~~~~~~~~~~~~~~~~~~~~~~~~~~~~~~~
The Consequences He Must Claim
Dani Collins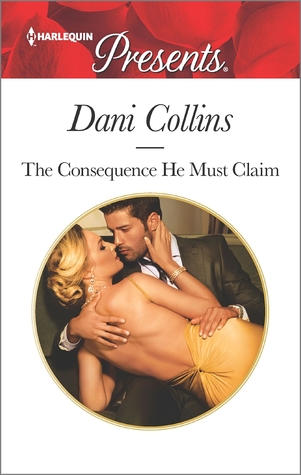 Reviewed by Helen
Loved this one this story is a sizzling sensual story of what happens when after 3 years the strong hard working Cesar Montero finally gets his PA Sorcha Kelly to sleep with him and the consequences will change his life forever and it will also change they way he shows emotions and feelings sit back and enjoy this story.

Cesar Montero comes from royalty in Spain he comes from a family that does not show love they show strength and Cesar does not trust easily he is a playboy who is pretty much committed to an arranged marriage with Diega from another Spanish family but has been putting off the announcement, and when he spends the wonderful time with his PA he drives to end the arrangement with Diega but an accident and loss of memory changes things and Cesar is left engaged to Diega but wondering.

Sorcha Kelly is Irish and has built herself up to be one of the best PA's there are she has had a tough time growing up but puts that away in a corner of her mind she is very close to her mother and sisters and knows what love is but when she is hired by the brooding Cesar she vows never to sleep with her boss so begins a 3 year "friendship" with Sorcha keeping her feelings for him under strong wraps that is until the time comes for her to leave and a night of unbridled passion that leaves consequences that Cesar does not know about till there is a mix up at the hospital.

Truly this is such a great story so many emotions so very sensual and heart-warming as we see Cesar open up and show emotions that have always been there just not shown he is such a loving caring hero and Sorcha is just the heroine he needs strong and loving and their son will help bring out so much in Cesar yes I loved this one from start to finish and I highly recommend this one don't miss it.
5/5 stars for a great story
Published January 19th 2016 by Harlequin