A Baby to Bind Them
Susanne Hampton
Reviewed by Helen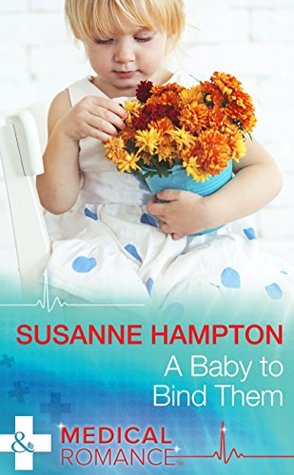 Jade Grant is a neonatal nurse in a big hospital in Los Angeles and loved her job and her life she is a fun loving woman who knows how to enjoy herself she is very close to her sister after they lost their parents in an accident when they were young and now her sister is pregnant and Jade decides to do something for her and her Australian husband but this ends in tragedy and Jade becomes someone totally different feeling that this is what her niece Amber needs.
Mitchell Forrester has had it tough growing up and felt it necessary to takeover and do the right thing by his mother and younger brother but when he is able to he takes of and back packs around Australia and other parts of the world but finally comes home and starts work at the hospital in Adelaide he is a Neonatal specialist and works hard but he is still not convinced that he will settle down in one place yet.
Jade is the sole carer for her niece Amber and after watching the premature little girl struggle at the beginning she is now three years old and doing well and it is time to take her for a trip to Australia to meet her grandparents little does Jade realize that this trip will change her life for the better when Mitchell is there for their visit as well. The spark between them is so strong from the start but Mitchell sees through Jade's Miss sensible clothing and the way she wants to wrap Amber in cotton wool he sees the guilt that she feels and when Amber falls ill things move along in such a beautiful way.
This is an emotional and beautiful journey for Jade and Mitchell as they both open up and learn to trust and relax and show the love that they have for each other and Amber I loved this one from start to finish make sure you have some tissues close by I do love a story were the emotions flow from the characters and pull you in I highly recommend this story for people that are lovers at medical romances.
5/5 Stars for this emotional and beautiful story
~~~~~~~~~~~~~~~~~~~~~~~~~~~~~~~~~~~~~~~~
Reviewed by
Nas
A BABY TO BIND THEM by author Susanne Hampton is a Harlequin Medical Romance series release for August 2015.
Jade Grant forsake her happy go lucky life and took over the care of her orphaned niece when her only sister died in an accident. She made drastic lifestyle changes so she can be the best for her niece.
Mitchell Forrester creates havoc in Jade as well as his little niece Amber's life by introducing fun. Dare Jade take on the challenge Mitchell seems to be throwing at her? To become a fun loving person once again?
A BABY TO BIND THEM is a sweet romance amid the medical drama. The chemistry between Mitchell and Jade could be felt throughout the story. Author Susanne Hampton made this a romance to remember.
Recommended for all readers of medical romance.
~~~~~~~~~~~~~~~~~~~~~~~~~~~~~~~~~~~~~~~~~~~~~~~~~~