Trouble Next Door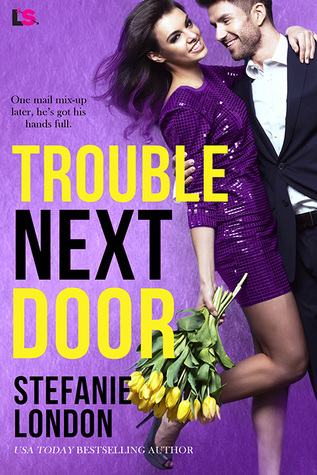 Reviewed by Helen
Oh WOW what a fun story this one is, it had me laughing out loud so many times but also just sighing as two people who are so very different come together in a sensual exciting and beautiful way. Although neighbours they are not over friendly that is until they are bought together when a special package McKenna Prescott orders online is delivered to the gorgeous Beckett Walsh's apartment.

McKenna is a make-up artist who works in a department store but really wants to run her own business, so when she is dumped by her boyfriend (oh she is so good at choosing the wrong guys) that she has decided to think about herself so self-loving is what her life is going to be from now on no men. But when her special package is delivered to her neighbours place, getting it back starts a new chapter in her life.

Beckett is a quiet IT geek and a workaholic he is a family man and is always responsible but when he is dumped by his fiancé and this leaves his new project hanging in the balance, he is not thinking when he opens up a package that is delivered to him and what a shock he gets when he opens it, but this package is going to change his life in such a good way.

I really loved this story Beckett and McKenna are so very different in their personalities although they both have issues with their families, but are both so good for each other the sensual sizzle between them is hot but of course there are ups and downs Beckett needs to get back with his fiancé so cannot possible fall in love with McKenna and McKenna has sworn of men remember it is all about self-loving, but cupid doesn't work that way and these two end up with a fabulous HEA that left me feeling joy and happiness, I highly recommend this one a fun and sexy story.
5/5 stars for a fabulous story
Expected publication: November 13th 2017 by Entangled Publishing, LLC (Lovestruck)