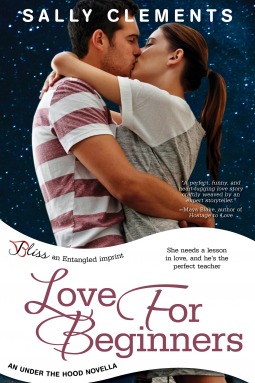 Reviewed by
Desere
We have all had those types of relationships that fail time and time again to the point were you wish you could sign up for some type of class to get some real education and learning how to love.
Of course there are endless books or tapes to listen to or watch but none of them can ever teach you the real lessons one needs. Getting in knee deep in a relationship and learning the what and who is the best way, as they say we learn from our mistakes.
In the new Sally Clements read this is the life of Melody Swan, she's looking for a man who can share her hopes and dreams, don't we all?
But Melody swore she would never lose herself to passion, so when sexy make my knees go weak and my brain mush Heath Starr makes his appearance Melody sees him as the perfect candidate for having fun but not getting serious, just the kind of practice she needs to learn how to get comfortable with a man.
Heath has pretty much been through the relationship ringer himself and he would rather focus on his outdoor activities than the sexy inside ones, but Melody cuts him a deal he can't refuse. So our characters end up in a rustic cabin isolated from the world and suddenly passion intervenes and Melody wants more than just now, and Heath well he swore he would never break another woman's heart so what now?
I have always liked Sally 's books and this one was no different, it was fun and upbeat charming and had a nice touch of elegance to it. I liked that the heroine was trying something new to learn how to get comfortable with a man before losing it all just for the passion of a new romance, it showed that she was willing to learn but I would not say her method was of the best as let's face it making a guy your "tester" can get very awkward , all though in this case it had a lovely outcome.
Heath was a very nice character that I very much enjoyed, he was the friendly and confident type of hero that is always a plus when it comes to men, no one wants the 'am so insecure I never kiss or this or that' kind, you want him to at least have some form of a go getting attitude which Heath totally had. Him letting Melody have the lead in the little I learn from this game was very sweet, his actions melted my heart.
I am taking away a message of when we try something new we discover so much more of life and about ourselves, so never be afraid to try everything at least once.
I recommend this book to all romance fans and those that love a good sexy romantic afternoon read!
4.5 star review
"Lessons in play teaches a couple how to love"