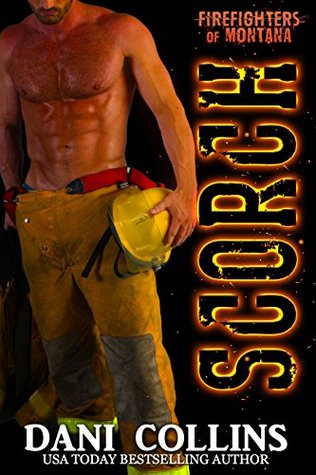 This is my second visit to Glacier Creek and the Smokejumpers and the characters that are so alive and fabulous to be with. These Smokejumpers are strong reliable and determined people who know how to love when they find the right person.

Jacqui Edwards has lived in this town all of her life and always wanted to work with the smokejumpers and has been the receptionist for many years and also married to Russ the boss but when tragedy strikes and Russ loses his life in an accident Jacqui takes off to Florida letting another smokejumper Vin Kingston move into the house, but when Jacquie comes back to Glacier Creek to get things settled she realizes that she can't leave she needs to get on with her life and that she is drawn to Vin there is a spark that could very well start a fire will she be able to get through to Vin?

Vin Kingston has finally found a family in the smokejumpers at Glacier Creek he loves the people the job and the security it brings even if his marriage does not work out and his ex works at the local tavern he is determined to stay but when he witnesses his boss's death it takes a lot out of him he does everything he can to help Jacqui and over the months that he is in her house they become very close friends and yes there is a spark but nothing can happen he cannot jump his late friend's wife no way, but can he be strong enough to control the spark.

This is a sizzling passionate story about people getting a second chance at love it is steamy and emotional as we journey to a HEA filled with lots of ups and downs, seeing Jacqui get stronger and stand up to Vin and when he can no longer deny this spark the sheets heat up and you will be turning the pages very quickly. I loved this one from page one and I highly recommend it for people who enjoy fast paced sexy stories that will make you smile.
5/5 stars for a fantastic story
Expected publication: June 14th 2016 by Tule Publishing
------------------------------------------------------------------------------------------
Review by Amanda
Scorch by Dani Collins is a steamy, passionate story with a cast of imperfect characters who command your attention from the start. Fast-paced and enjoyable, Scorch, second novella in the Firefighters of Montana series, is a must read. Jacqui Edwards carried around a lot of emotional baggage ever since she lost her husband. She has returned to Glacier Creek to sell her home before heading back to Florida and move on with her life. What she hasn't bargained on is meeting Vin Kingston, her husband's best friend. Vin has never gotten over the guilt of losing his best friend. But seeing Jacqui, the urge to protect her takes up residence in his head…but below the friendliness between them burns a passion too hard to resist!
Recommended
4 Stars
Review by TashNz - 5 Stars
Loved this book from the start, I loved the characters Jacqui and Vin because they were two people deserving of love a second time around. I loved the setting of the story and reading about the job Vin did for a living - coming from NZ, I didn't know there was such a thing. I loved the interaction between Jacqui and Vin and I loved how he held back when all he really wanted was Jac. I loved how the author made it completely legit that Jacqui wanted to live life and love again. I loved how I did not want to put this book down at all.
This is my first intro into the Firefighters of Montana and I enjoyed this so much I will be picking up the others to read. Fast paced but emotional and edge of the seat reading. I loved how Jacqui had cut all her hair off and I loved seeing into the thoughts of both characters and totally understanding where they come from and why they think the way they do.
The author has written with a freshness, a punchyness and in such a way that i laughed and cried right along with them, like I was there. Scorch had me hook line and sinker.
Loved this book to pieces!
Review by Cheryl - 5 Stars
Jacqui spent years as the receptionist for the Glacier Creek smokejumpers. She left Glacier Creek when her husband who was the captain of the group of smokejumpers died during a jump six months earlier. She went to live with her family for a while and clear her head. She comes back to settle up with things including her house that Russ and her had lived in. Another jumper Vin Kingston was now living in it and remodeling it and was also planning to purchase it when she was ready to sell.
Vin grew up in foster care and he has married Tori who just could not be happy with him and they divorced. She was tries to sell what was Vin and Tori's house and at first did not succeed and the 2nd time was the charm.
Vin took it upon himself to keep a watch over Jacqui and not in any romantic way as he for sure felt he could never go for his friend's widow. Again fate took over and they finally said the magic I Love You.
Jacqui asked Sam Gaskill, who was now the captain for her job back. She liked order and had really loved her job.
There are 2 more books after this one and can't wait to read them too. I learned quite a bit about smokejumpers and what they go through.
Review by Alexia - 5 Stars
"Scorch" by Dani Collins is book 2 in her 'Firefighters of Montana' series. It can be a read alone or be read as part of the series. The author takes us into the story about smokejumpers in Glacier Creek. Jacqui Edwards is returning home after losing her husband (he was a smokejumper) in order to put her affairs in order and be close to family. She is thrown when Vincent Kingston, Vin, becomes more than her her husbands best friend. After being friends for years they seem to have found a new appreciation for their relationship.
Review by Dottie - 5 Stars
The second book in series in Glacier creek about smokejumpers. In this book we meet Vin Kingston who after a failed marriage still stays in Glacier creek because of the love of his job and security it brings. He witness's his boss's death and so comes to the aid of his boss's wife Jacqui and he moves into her house to help her. She has a difficult time and decides the best thing to do is pick up and move so she goes to florida leaving Vin in her house. Realizing that the distance doesn't help she returns and so does the sizzle that was there for a while but denied by both. Vin feels guilty about having feeling for his late boss's wife, but Jac feels its time to accept what they feel for each other and see where it leads. A very lovely story about two hurting people, but the amazing chemistry between them has you immersed in an incredible love story of second chances. Love finds a way through the heartache and she finds there is love again right in front of them. Ms. Collins always writes fantastic stories and this is another example of her wonderful talent to heat up the pages of a book.