New Year at the Boss's Bidding
by Rachael Thomas
Reviewed by TashNz
A romantic winter read with a beautiful setting at New Years Eve.
Tilly has landed a fantastic opportunity to cater for a New Years Eve party. Xavier Moretti hates Christmas and Tilly is a jilted bride so both aren't the happiest of campers at such a time of year where most are happy and full of joy. Both Tilly and Xavier note the sparks flying and not just from the log fire. Crazy snow storm blocks the road and neither the party Tilly is catering for can get through and she can't leave.
Snowbound!
Brilliant set up for two people who need to face their demons and the distraction of each other proves to start the New Year off with a bang. Once the snow settles and they have to face the real world, will the warmth in the manor continue outside in reality to melt their past away and heal broken wounds???
Tilly and Xavier are two fab characters to read about and I enjoyed their story from the start. I found it hard to put down and I enjoyed the set up of the beautiful manor which was described with perfect detail, the believable back stories and really warmed to the characters of Tilly and Xavier. They deserved their happy ever after together.
Imagine sitting in front of a warm log fire all tucked up with a nice glass of red! This is how I felt reading New Year at the Boss's Bidding.
Reviewed by
Nas
Natalie Rogers is snowbound with Xavier Moretti and passions run high. But she wouldn't sleep with her boss. Yet by midnight, her contract is up and Xavier is no longer her boss. Would she give in to their fiery passion and raging chemistry?
After an accident, Xavier is scarred both physically and mentally. He doesn't see himself a fit suitor for Tilly. Yet he couldn't ignore the longing he has for her love. Could they have a happy ever after?
NEW YEAR AT THE BOSS'S BIDDING
is a mesmerizing romance filled with emotional intensity and sensuality. Author Rachael Thomas once again astounds her readers with her heart-warming story telling style.
Highly recommended for all readers of romance.
~~~~~~~~~~~~~~~~~~~~~~~~~~~~~~~~~~~~~~~~~~~~~~~~~~~~~~~~~~
Reviewed by Alexia
"New Year at the Boss's Bidding" by Rachael Thomas is a quick, classic romance. Xavier Moretti hires Tilley Rogers to cater his family New Year's Eve party but a snowstorm cancels the party and strands them together. Even though it's cold outside it is HOT inside. I'd love to tell you more but it gives too much of the story away, and the relationship between these two are worth reading.
5 Stars
Reviewed by Hina
New Year's Eve being not far away from Christmas, every New Year's Eve has the added warmth of Christmas. The same is true for this sexy story.
Snowbound in a manor that oozes of times gone by, Natalie and Xavier come together emotionally and physically. Both of them have a past that they must learn to move on from. Wounds of a past that need healing and the way to that is for them to be there for each other. The salve for their wounds is the love they have now developed for themselves.
Even though it is a Presents story, I find it a very sweet Romance. A book that when I once began, I could not keep it down until I read the last word.
5 Stars
Reviewed by Cheryl
New Year at the Boss's Bidding by Rachael Thomas
Xavier Moretti's New Year's Eve party is a good way to build the verily recent business for Tilly Rogers's new catering company, Tilly's Table. Landing it was a much needed boost to her new business and he wants an Italian theme which is perfect for Tilly. She used to cook alongside her grandma.
As Tilly drives out to the Wimble Manor which is set on the edge of Exmoor it is snowing. She finally finds the Manor and finds also that the snow is accumulated a bit more. As she gets out unloading her business van she encounters none other than Xavier.
Xavier is a billionaire business owner and has the motorcycle track. He is a former motorcycle racing and now mentors the young riders. He for sure is the most high-profile client to date for her catering company.
Tilly was very pleased to be out of London for New Year's Eve considering that last year on the morning of what was to be her wedding day when her fiancé, Jason called off the wedding.
Tilly felt Xavier's eyes on her as she unloaded the van. He offered to help her and touched her as he grabbed boxes out of her arms. This sent sparks flying between them. She had never been affected by a man like this before, not even her ex-fiancé.
As she set to prepare for the party she was not really looking out the windows and when she did she could not believe how the flakes were so large and coming down at a fast pace. She began to worry would her 2 assistance make it out there to help her.
After her broken engagement she started a bucket list of things she wanted to accomplish. Her catering business was on the list and so was a romantic fling. There was something between her and Xavier and yet she told herself and later him that she could not do anything since Xavier was her boss for this party.
Do the 2 assistants make it to the Manor? Does Xavier's family make it there? Will Xavier and Tilly be alone in the Manor for New Year's Eve and after due to a major snow storm? To find these answers and more you will have to read the book. It will show how Tilly had been hurt and how Xavier's cycle accident that left his best friend dead and Xavier with major scars and what the future now holds for them.
Enjoy!
5 Stars
Review by Dottie
Tilly Rogers is given the opportunity to cater a New Years eve party for billionaire Xavier Moretti. New Years is not a good time for either Tilly or Xavier, last New years Tilly was to marry and her fiancé called it off just before the ceremony. Xavier hates the holidays as he feels responsible for the death of a friend near the holidays. New Year is as it says a new year and these two people are suddenly stranded and have to cancel the party and spend the time together. Take Tilly , Xavier and an author like Rachael Thomas and you have a lovely story of discovery , healing and finding love when its least expected. These two people find what all romance readers want HEA but on their way to that you have a lovely story that will make you warm for the new Year
5 Stars
***************************************************************
Review by Amanda
Tilly Rogers is thrilled to cater for Xavier Moretti's New Year's Eve party. What she hadn't catered for was getting holed up with her boss for a few days. However, being in close proximity to each other ignites a fire between them and it is not before long that Tilly and Xavier act upon their sizzling attraction. But with their broken past hanging over their heads, Tilly and Xavier give each other comfort in trying times by helping each other recuperate. Overall, New Year at the Boss's Bidding by Rachael Thomas is a good solid book that keeps you reading until the end. Ms. Thomas creates a convincing story where her unique writing style and her well-developed characters take readers on an emotional rollercoaster ride.

Recommended
4 Stars
----------------------------------------------------
New Year at the Boss's Bidding Rachael Thomas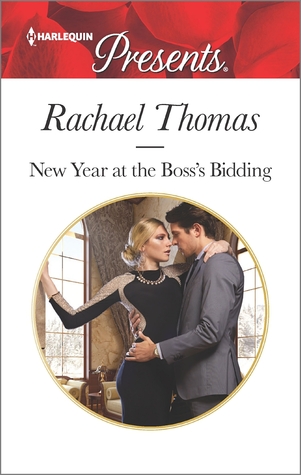 This is a story that will have you turning the pages as two people that have issues to get over come together in a sizzling sensual story in such a beautiful setting with lots of snow.

Tilly Rogers was jilted a year ago and has thrown herself into a new business and hid behind that but she has made a list of things that she is determined to get done she is quiet and determined and a little afraid of loving which stems from her parents but when she takes on a job for New Years Eve and then gets snowed in her life will change for the better.

Xavier Moretti had a great life as a motor bike racer but when that part of his life ends in tragedy he continues to punish himself he works hard to promote safety in the industry but shuns Christmas, but when he meets Tilly things will change.

I loved this story truly the instant sizzling attraction when Tilly and Xavier meet could set the pages on fire the sensuality is amazing and to see a tortured hero meet a heroin who has issues to overcome and then Xavier to be so determined to get the girl he loves, this one will have you smiling throughout I highly recommend this story grab a beverage curl up and enjoy I did very much.
5/5 stars for a great story