Wrong For Me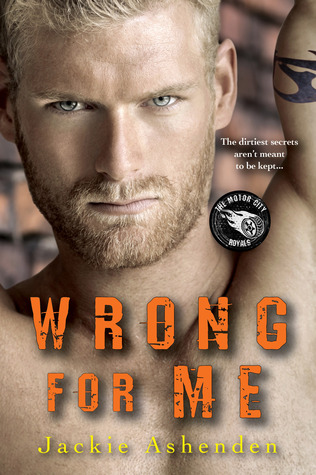 Reviewed by Helen
This is book 2 in the Motor City Royals series and wow what another fabulous story so emotional and moving as we get to know Levi Rush and he is strong and vulnerable you see Levi has been in jail for eight years and now he is home in the fold of his "family" his best friends and all he wants to do is make things better for them and get back to who he was or who he thinks he was.

Rachel Hamilton has changed a lot in the eight years that her best friend has been away and she has not seen him at all although she has never forgotten him, Rachel feels guilt and shame about what had happened but has made a good life for herself with her tattoo parlour and her plans for the town of Royal. Rachel is a gifted artist and has plans to help the kids at the outreach centre but now Levi is back he has other plans this is going to be a big upheaval for Rachel in so many ways.

Levi is back and determined to have Rachel you see he always had plans for them together but things changed when he went away and he became a different person although that underlying passion of helping people can never be taken from him. Levi has big plans for Royal and Rachel but they are met with negativity by his friends and this takes a lot for Levi to get around, but the sexual sensual pull between him and Rachel which has always been there is way to strong to deny for long.

This is another powerfully emotional story from the pen of MS Ashenden one that you will not want to miss truly Levi comes home with such a chip on his shoulder and a vulnerability that plays havoc with him but when Rachel and him finally open up with secrets and he really listens to their "family" and gets back to being himself then this path to a beautiful HEA will really have you smiling with tears. I loved it from page one and can highly recommend it to anyone who loves a romance that ticks all of the boxes.
5/5 stars for a fabulous story
Expected publication: November 29th 2016 by Kensington