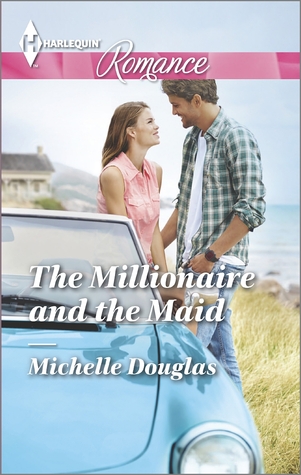 Reviewed by
Desere
Every time I receive a new Michelle Douglas I know that I am in for a guaranteed treat. Stunning, deep heartfelt emotion, memorable characters, a romance story that will make my heart soar and my mind wander into the world of blissful romance.
And every time I tell myself, that there is simply no way the author could make this book any better than the last , yet she has amazed me time and time again, this time was a complete surprise, because I walked away from this read with so much more than I have ever done before.
The read tells of housekeeper Jo Anderson, she gets the shock of her life when she meets her new boss. Six months ago millionaire Mac MacCallum was a charismatic celebrity chef, now he's scarred and reclusive. So the very last thing he needs is determined Jo to make him confront his demons, especially when she very clearly has her own. But when Mac can clearly see Jo feeling like the plainest woman in Australia he recons he might be exactly what she needs to find her special flair.
By now I am sure you have already pretty much figured out that Mac is the one who let's Jo feel beautiful and makes her feel just as special as any girl could with the right words, the right looks and the right actions. And that Jo is the one who pulls Mac from his sudden recluse, you are absolutely correct, and I agree is sounds like a story line that has been done before and it most likely has, but the difference is that this time it was written by Michelle Douglas.
And as I have mentioned this author fills a read with deep heartfelt emotion, memorable characters and a romance story guaranteed to make your heart soar, so you take all of that and add in the author's pure magical flair for twisting and turning characters into something you thought they might become but never really knew the joy it could bring when the time for change actually comes, and you have a ' rescue me and I 'll rescue you" romance that will stay in your heart for a long time coming.
The characters were both strong willed and determined to make themselves known, from page one there is no avoiding them, the author let them reach out from the pages and drag me in, demanding I listen to them, feel their emotions and want to get involved in their lives, and listen I did and with each emotion I felt I became more hopelessly trapped in a world I never wanted to leave, I cried my eyes out when the read ended, tears of joy for the characters finally reaching their hard fought for happy ending, but also tears of sadness that their story has come to an end.
This gorgeous romance is set against the perfect backdrop, the descriptions used by the author made it felt as if I was right there, I could see the house, I felt the wind rustling through the trees, smelled the fresh air and I could touch the sunshine.
I am taking away a message of guilt is guaranteed to send even the strongest of people into a slump , hiding out from the world. And guaranteed not every woman feels beautiful until she is able to see what others see. So what is one meant to do when guilt sends you running or your beauty is simply something others see and you spend your entire life trying to see? The answer is a simple one, love! Love will let you get back on the right path after guilt has sent you astray and love will let you see what has been there all along, all you need to in both instances is risk, believe and you will achieve happiness.
I recommend this read for all fans of romances that are perfect in every single way.
5/5 star review
" He sees the real her, she sees her change to free him "
~~~~~~~~~~~~~~~~~~~~~~~~~~~~~~~~~~~~~~~~~~~~~~~~~~~~`
Reviewed by
Nas
THE MILLIONAIRE AND THE MAID by author Michelle Douglas is April 2015 release by Harlequin Romance.
Jo Anderson is sent to check on celebrity chef Mac MacCallum after an accident on his sets. He has gone underground. Jo finds Mac in a pathetic situation but manages to bully him out of it. While doing that she manages to fall in love with him as well. But he also gives her self-confident in herself.
But would Mac ever put Jo first? Would he come to care for her as she does?
THE MILLIONAIRE AND THE MAID is a sweet romance filled with food, great scenery and intense emotions. Author Michelle Douglas has woven a tale filled with emotional intensity into a mesmerizing romance with a strong heroine and a damaged hero, who is brought to his full potential with the help of our heroine.
Highly recommended for all readers of romance.
~~~~~~~~~~~~~~~~~~~~~~~~~~~~~~~~~~~~~~~~~~~~~~~~~~~~~~~~~