Reviewed by TashNz
Seduced into the Greek's World
by Dani Collins
A must read; don't pass go; could not put it down! Perfect story! AAARRRGH I loved it soooo much!
First thing I loved is how opposite this is to normal stories. Natalie throws caution to the wind, she's like you know what? Bugger everything, I deserve ME time, I deserve the fantasy, I deserve for a week of my life to be perfect! How often do we think this? And whole heartedly jumps feet first into a quick fling with Dimitri, brother of her boss. No strings they agree and it all goes along swimmingly until Dimitri finds out Natalie's closely guarded and heavily protected secret.
I loved Dimitri's sass and character, with the perfect touch of humor to make him a lovable and very dimensional character. He has to be one of my favorites!
Natalie is portrayed perfectly, there wasn't anything I didn't like about her and her outlook on life totally captured my attention. We all want our dreams to come true even for a little while and I loved the concept of the story being that Natalie does just that!
This wonderfulness, fantasy, perfection that Natalie discovers with Dimitri comes to a grinding crashing halt when Natalie's world is exposed and then when things cant get any worse, they do when Dimitri's family finds out he's cavorting with the staff. Having enough of his carefree don't give a damn attitude Dimitri's family turn their back on him, and Dimitri finds himself where he always fears he would end up - alone!
Beautifully crafted plot, page turning writing and wonderfully written characters pour from the pages as we discover a new Dimitri as he finally faces his demons and chases after what means the most to him in the world which ends in a beautiful conclusion.
Dimitri's siblings have been covered in other books by Dani Collins and if you haven't read them you sure will want to after completing this one because they are all mentioned enough to help you become familiar with Dimitri's family.
It's a horrible winter weekend here and I totally planned to do a lot of reading while I'm sick with a cold, but I'm so reluctant to because I don't want to leave them behind :(
I received an ARC for my honest opinion and I can honestly say, I loved every single word I read, every giggle to be had and every heart breaking moment I read. 6 stars really!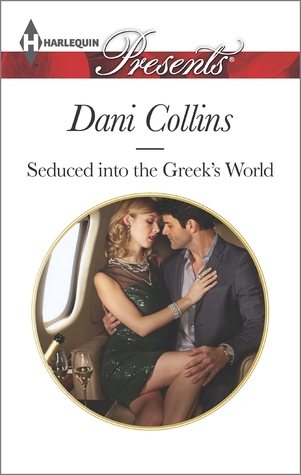 Reviewed by
Desere
Every woman heck every man even , has a fantasy they dream about. It's usually in the dead of night when no one is around to hear you accidentally say the dream out loud or do something stupid like make a facial expression that borders on your 'sex face'.
In the new Dani Collins read we meet Natalie Adams and we are taken straight into her fantasy when it becomes reality as she embarks on an affair in Paris with infamous billionaire Demitri Makricosta, reality surpasses her wildest dreams and it's a memory she will always treasure.
But Demitri has other ideas, one night isn't enough and to quench his new found Natalie-diction he suggests she becomes his mistress. Natalie is course thrown off kilter but show me the woman that will say no to a hot billionaire when she has nothing to lose, but the closer Natalie get's to the emotions that Demtri has carefully locked away the more he distracts her with dazzling gifts and a life of luxury holidays to ensure that seduction is the only that remains between them. But can he really carry on with this little game of seduction only or is Natalie getting to his closed off heart ?
The author wrote a very enjoyable read, I very much liked Natalie. She was the kind of heroine most woman think they can be when they get burned in life, but as all woman know, when the time comes it doesn't seem that you are able to really be the person you always told yourself you would be should you get burned. She had spunk but not the overwhelming large dose that some heroine's have, nope just enough to let me know that she will fight to have her little fantasy but she also won't let it shift her focus from her child to the point where she will be a ' it's all about my love life and not what's best for my child' kind of mother .
Demitri was of course the typical bastard hero found in the HP line, but he he had a lot more depth than most. The author did a fantastic job of taking this tortured black heart hero with all his emotional closure and turning him into this remarkable man that no woman can resist, and the man certainly had me weak at the knees when he goes from tortured to saved! Loved it!!
Strong characters, wonderfully crafted plot and a great ending to a beautiful journey of redemption, self discovery and best of all a stunning message of life being full of surprises and when reality comes knocking it's never what our fantasies were, it's always so much better !
Recommended for all fans of Dani Collins books.
4.5 star review
"Fantasy becomes reality but it's not quite what they expected it to be"
~~~~~~~~~~~~~~~~~~~~~~~~~~~~~~~~~~~~~~~~~~~~~~~~~~
Natalie Adams is on a business trip, she had fantasized for a romantic fling while in Paris. But it was a fantasy only, wasn't it? As a single mum, she always is careful to maintain decorum of morality for her daughter's benefit. But away from home and in romantic city Paris, who would hesitate if approached for a dinner date with gorgeous Demitri Makricosta?
Demitri doesn't do long term or commitment but the attraction between them was such that he couldn't let Natalie walk away after Paris. Could it lead to something more? What would happen when past hurts and secrets are out in the open?
SEDUCED IN TO THE GREEK'S WORLD
is a sizzling romance. It's very fast paced and filled with sensuality and emotional intensity. Author Dani Collins brought to life a mesmerizing romance with a gorgeous hero and a strong feisty heroine and the result sparkles on the pages.
Highly recommended for all readers of romance.
~~~~~~~~~~~~~~~~~~~~~~~~~~~~~~~~~~~~~~~~~~~~~~~~~~~~~~~~~~~~
Reviewed by
Helen
I really enjoyed this story I loved the setting starting in Paris the City of love and maybe fantasies for Natalie Adams single Mum who is working for a few weeks in Paris setting up a new IT programme for the Makricosta Hotel chain she works in one of the Canadian Hotels and jumped at the chance for this job every girl has her dream.
Demitri Makricosta is in Paris at the hotel he runs the marketing side of things and I feel is wounded from a terrible childhood he has lots of one night stands never thinking that he will ever settle down like his siblings have that life is not for him.
But things change for Demitri the instant he hears Natalie laugh he must have her and is this the answer to Natalie's fantasy?. This is a story that is very emotional and very sensual as Natalie and Demitri learn so much about each other and themselves Natalie is honest and fiery and opens up emotions in Demitri that he has kept locked away for so long and Demitri wants to do so much for Natalie as she deserves and this makes him very happy yes this is a story that will have you turning the pages and cheering them on as they journey to that wonderful HEA.
I highly recommend this one.
4/5 stars for a great story